Pleasanton Partnerships in Education Foundation (PPIE) is transforming our annual Pleasanton Run for Education into a VIRTUAL RACE with an added Back-to-School gathering to celebrate our community in August. We hope you're as excited as we are about these new community activities!
Our goal: encourage as many people as possible to run/walk/hop/yoga, etc. to accumulate over 7,500 virtual miles and race around the USA. So sign up now, create or join a team (such as your school teacher and classroom) and share with friends, relatives and work colleagues to support our schools. Although the focus of our spring event is no longer fundraising — it's "friend"raising — we greatly appreciate any additional donations at the time of registration. By donating to PPIE's Virtual Race 2020, you are supporting key staff and programs to benefit our 15 public schools, 15,000 students and 9,400 school families!
What is PPIE's Virtual Race 2020?
We are going to band together as a community, get some exercise and support our schools. PPIE's Virtual Race 2020 takes place where you are and when you want, anytime between April 1 and April 19, 2020. And you don't have to run if that's not your thing! Walking, biking, swimming, yoga, dance party… you choose the activity you want to partake in and track your fitness using a mobile app. Our goal is to collectively run/walk/dance/jump, etc. for 7,750 miles, which is the distance of a community grand circle tour from Pleasanton to Seattle over to Chicago, then to New York, Orlando, New Orleans and then back home! The easy-to-use app will enable you to join teams, update your miles (via running, dance steps, etc. – see the conversion chart below for reference) and upload photos for awards (see below for details).
What about social distancing?
Registrants can participate outdoors, but will need to maintain "Social Distancing Requirements" by maintaining at least a six-foot social distance from other individuals. If you'd rather stay indoors, that's ok too!
How much does PPIE's Virtual Race 2020 cost?
Because we do not want cost to be a barrier for participation, the entry fee for PPIE's Virtual Race 2020 is very low – only $10 for the Virtual Race or $20 for the Virtual Race + Run Shirt. (PPIE is sponsoring all PUSD teachers so that they will have access to the Virtual Race app at no cost – and we encourage them to form class teams!) All registrants will also receive a Pleasanton Run for Education medal and entry to the Back-to-School Event in August. We recognize the financial uncertainty families are facing right now. We do not want financial stress to prohibit you from participation, so if you find yourself unable to contribute, please reach out to mail@ppie.org and we will make sure you have access to the Virtual Race app regardless of ability to donate.
What does the run shirt look like?
We hope everyone registers for a shirt – they are a beautiful blue color this year!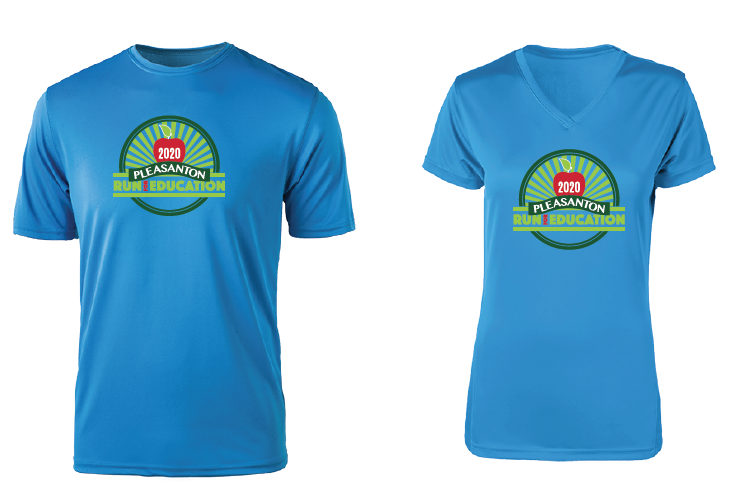 Can I register my whole family at the same time?
Yes & no. If your whole family is registering for the Virtual Race + Run Shirt ($20 each), then you can register everyone at the same time. If your whole family is registering for the Virtual Race only ($10 each), then you can register everyone at the same time. However, if some family members want the run shirt and others don't, you will have to do two separate transactions. All options are easy!
How do I share my excitement about PPIE's Virtual Race 2020?
Sharing photos on social media – #PPIERace2020 – and submitting photos to our campaign scrapbook page will make this tons of fun for everyone and help you recruit friends and family to participate! When registering, you can also easily invite friends and family to join – and become part of a team.
What kind of awards will there be for PPIE's Virtual Race 2020?
For PPIE's Virtual Race 2020, we have developed some fun award categories. Awards will be based on either miles accumulated OR the photos/hashtags you submit to our campaign scrapbook page – see below for details. As always, there will also be Spirit Awards to our school sites with the most participation.
PHOTO-based awards – awarded by our elite panel of judges based on photos shared in Charity Footprints Scrapbook by April 20th. Be sure to add these hashtags when posting so we can sort your photos.
#CrazyCostume
#CrazyHat
#Sweatiest/Wettest (dousing yourself with water is allowed!)
#WildestDancing
#WithMyPet
#MostSchoolSpirit
#IDeserveAnAward
#MostEnthusiastic
GOAL-based awards
*Miles per Team
*Miles per Teacher Team
*Miles per Individual
*Largest Virtual Team – based on # of participants
*Largest Teacher Team – based on # of participants
How do I sign up for a team?
Sign up for a team – it's easy! Anyone can add a team name. Or you can join other teams around the community (team names are added to a pull down menu as they are formed). Teachers may be forming class teams for their students so look out for that! Note that each person can only join 1 team.
If I am tracking fitness activities other than walking, running & biking, how do I log them in miles?
We want to encourage all kinds of fitness activities for PPIE's Virtual Race 2020. Here's a chart for you to equate 1 mile with time spent on various activities: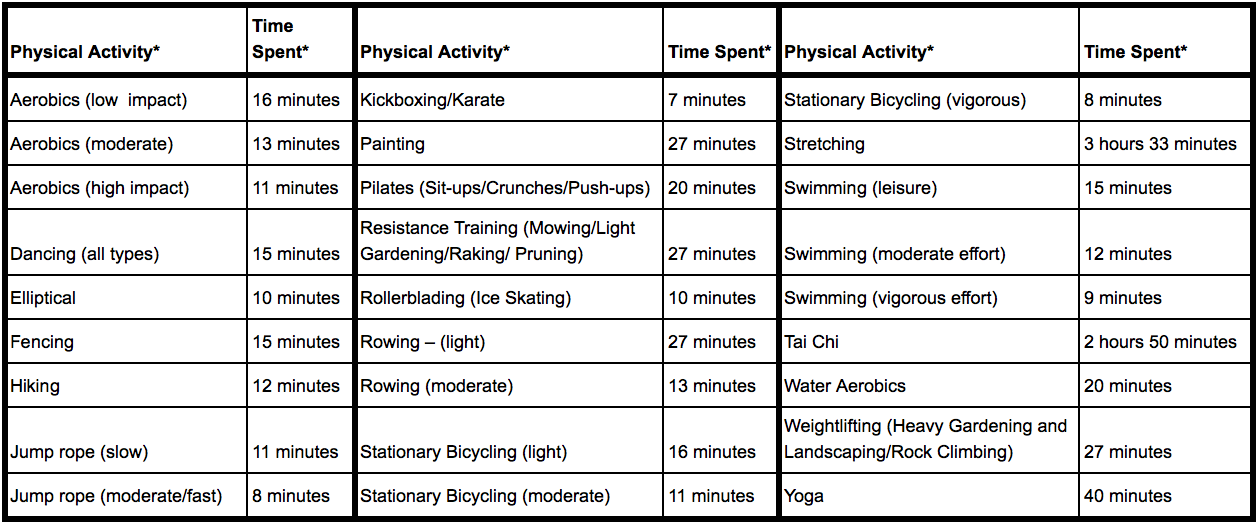 *Each physical activity/time spent listed above equals 1 mile. So, when entering miles in the Charity Footprints app for any of these activities, simply divide the time you spent on the activity by the number of minutes from this chart for that activity. Then plug in the number of miles – be sure to round up!
What is the Back-to-School Event?
As part of your registration, we will host a fun Back-to-School event in August – with food, fun activities, an award ceremony for our Virtual Race participants, and a chance to pick up your medal and run shirts! Date/Location is TBD.